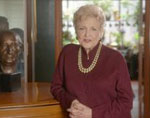 CLICK HERE
to view a new video about Sonya Hamlin, Emmy award winning TV host, best-selling author of 5 books, nationally recognized communication and jury expert and executive coach.
Known for her wit and filled with surprising techniques for audience involvement, Sonya is much in demand as a speaker and TV contributor.
SPEAKING TOPICS
I customize my presentations to the specific needs of my clients. Below is a list of topics that I have written about in my books and am often asked to speak about to corporate groups.
HOW TO TALK SO PEOPLE LISTEN
What it takes to get attention and be heard today
Giving financial information
New skills for winning – How to explain, convince and persuade in today's tech-addicted workplace
Understanding and handling the alienating generation gaps
Dealing with the communications issues of a global marketplace
Presentations that work: Making them clear, concise, and memorable
Stage fright and how to cure it; creating your own style
One-on-one encounters: planning ; predicting; insights for successful, creative approaches
CONNECTING IN TODAY'S WORKPLACE
What are the issues re: men vs. women's executive presence and style?
The three major mistakes today's leaders make in communicating
Meetings: new ways to lead and participate - inclusive techniques; making your mark; understanding and handling the four personality types at any meeting
New approaches to handling clients, staff, peers, senior executives and boards
Making messages visual; secrets of persuasive, memorable graphics; talking visually
Handling the media; finding your own style; tough but effective solutions; getting your message across
Global business; how do Americans make people listen: mistakes we make
Effective communication approaches and solutions various work situations.
COURTROOM COMMUNICATION
Understanding/ handling the generation gaps differences: beliefs, work habits, communication styles, attitudes toward establishment.
How jurors listen in the age of Google. What they need now.
Getting multi ethnic juries on the same page
Winning with your opening statement
Persuasive new approaches to direct and cross
Jury Selection – How to present or relate to jurors: Kinds of questions that give information you want
What makes your PowerPoint powerful and persuasive
Organize and edit: Today's all-new communication demands
Understanding body language and how to use it
First impressions and how the jury sees you
New approaches for reaching your jury
Sonya Hamlin's vast experience in every phase of effective communication helps you talk so people listen and understand how it all works.





Business people, lawyers and other professionals learn from Sonya, in her informal, personal style, how to reach people today and persuade them. Sonya is acclaimed for teaching how to prepare and and deliver effective presentations and power point/slide presentations, managing meeting agendas and leading meetings. Her techniques for witness preparation, expert testimony and expert witness coaching, developing effective demonstrative evidence are unmatched. She is an expert in the field of solving performance anxiety and stage fright.





Using down to earth, innovative techniques, with humor and visual support, Hamlin's leadership coaching brings a new, effective dimension to the complexity of becoming a successful communicator and effective leader

.